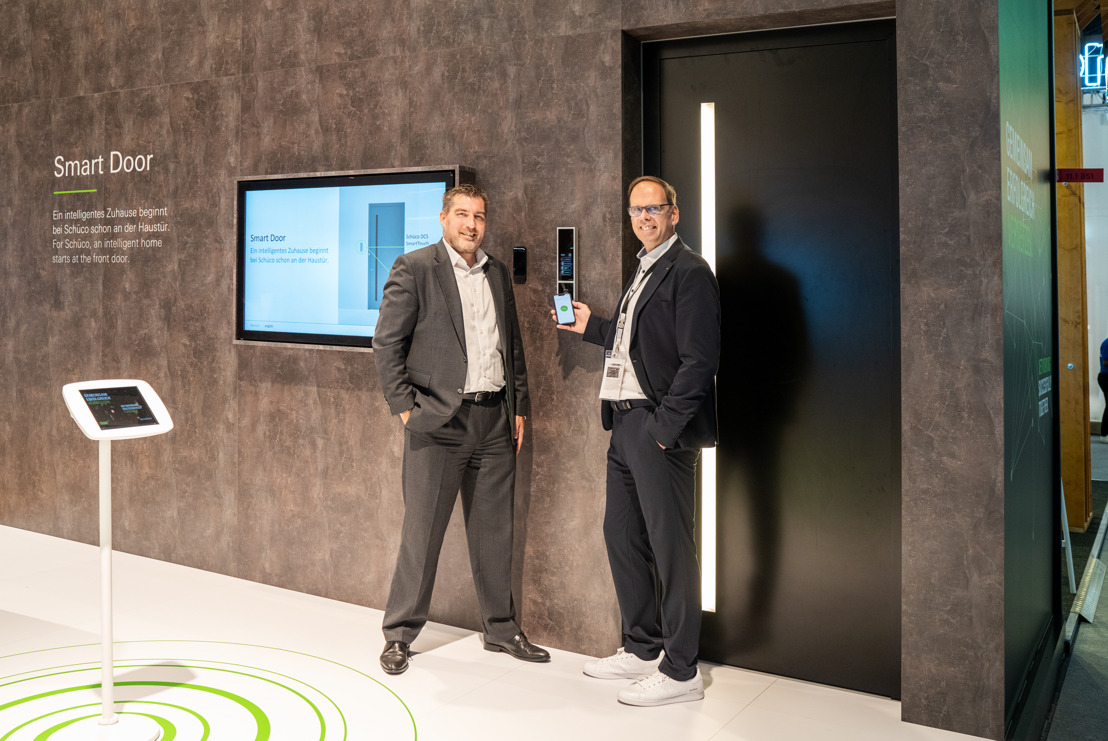 BIM is not the future, but the present
How the cooperation between Schüco and dormakaba digitalizes doors and buildings
A strategic partnership between dormakaba and Schüco intends to drive forward the digitalization of building skins, doors, and access control. The first steps are a door-integrated access management system and the connection of dormakaba's digital platform for door solutions "EntriWorX" with the configuration and calculation tool "SchüCal." We asked Joachim Gau, Head of the Smart Building Business Unit at Schüco, and Alexander Bradfisch, Senior Vice President Global Marketing & Products at dormakaba, about the background to the cooperation, what opportunities it offers for the electrical trade, and why doors should be invisible barriers.
The original interview in German on the partnership between dormakaba and Schüco is available at "de - das elektrohandwerk"
​https://www.elektro.net/file/show/120930/30c9cb/DE_2022_23-24_46-49_IS53_BK.pdf
"de": Schüco is probably known to many readers primarily for its windows and doors. What makes the company interesting for the electrical trade?
J. Gau: All of us in the construction industry have the task of constructing buildings that are sustainable and energy-efficient, that enable safe, healthy living and working. What sounds simple is often more complex in practice than imagined. When it's cold outside and warm inside: when do I ventilate properly, and for how long? After all, 20% of households have mold problems, and very few people think about indoor air quality. If we don't heat as much in the future, this problem will continue to increase.
We not only want to protect people's health and the fabric of the building, but at the same time, we want to save energy and avoid heating out the window. This is where our dynamic building skins come into play, consisting of windows, doors, facades, and sunshades that automatically adjust themselves based on sensors to ensure an optimal balance between the outside and the inside.
"de": How did a manufacturer of mechanical solutions come to take up the topics of networking and digitization?
J. Gau: Such electronically controlled solutions are well suited to support people. Digitally controlled doors, access control, and smoke and heat extraction systems are also based not only on current sensor technology but also on networking. Because anything that is supposed to be dynamic and intelligent has to be controlled. Of course, we have our own apps, but customers often also want to integrate their lighting or multimedia into the control system, which makes networking into an overall system necessary. We have products in our portfolio that the metalworker builds, and the electrical trade connects intelligently.
But we also have products such as door stations and intercom systems, sensors, and ventilation systems that can be retrofitted and also marketed directly by the Electrical Installers, without metal construction. There is an opportunity here for the Electrical Installers to increase its expertise and offer smart facades and buildings that increase sales per project. In this way, the building owner gets exactly the solution he wants from the electrician and the Electrical Installers benefits from including the dynamic building skin in its portfolio of competencies. My vision is that as Schüco we will become as strong in the electrical trade as we already are in the metal construction trade. This will certainly not happen by tomorrow morning, but that is the goal.
"de": One step towards this could be the strategic partnership that Schüco and dormakaba announced in mid-2022. How did the collaboration come about, and what do you expect from it?
A. Bradfisch: We had already established a long-standing relationship with Schüco as part of our supplier relationship and had exchanged ideas intensively. And both companies have invested heavily in digitalization in recent years. For example, I am responsible for the "EntriWorX" business unit and, therefore, the digitalization of our products and the connection to building management systems. When we developed this connected solution, from planning to execution planning, installation to controlling the doors in building operation, we went one step further.
The partnership allows us to combine the strengths of both companies: Schüco is familiar with the entire door as a unit: from the "hardware" requirements such as door profiles, infills, and fittings to smart applications such as door communication. And dormakaba has the expertise for special door solutions. Because a door only does exactly what the integrated devices allow and enable it to do. Against this background, we have decided to tackle strategic issues together from now on.
J. Gau: Many people think that Schüco builds windows and doors itself, but we don't do that at all. We also do this in partner networks, i.e. with over 10,000 partners worldwide. In the same way, we don't want to develop everything ourselves, but we believe in networks and partnerships - especially when the product competencies complement each other, as well as they, do in our collaboration with dormakaba.
You can compare us a bit to an automobile manufacturer: A Mercedes or BMW is also not produced by one manufacturer alone, but there is always a whole universe of component manufacturers, suppliers, and technology partners involved. Both companies have the goal not only of bringing products or systems to market, but also want to enable processors, planners, installers, and operators to cope with the extensive technology from planning to operation.
A. Bradfisch: Exactly. It's not only about developing great products that no one can install or use because they're too complicated. We want to combine products in a way that allows us to map overall door functions and make them available digitally. We thereby combine the planning, installation, and services of the door into one complete system. dormakaba offers a portfolio ranging from swing door drives and locks to access control systems to provide everything needed for door functions from a single source. And it is digitized in such a way that it can be easily combined with the Schüco door calculation system.
"de": Schüco has many other cooperation partners, such as Gira. Does that lead to conflicts?
J. Gau: No, I think it rather benefits everyone. This is also shown by the positive response we have received from the market regarding our partnership with dormakaba. Of course, there are small areas where our cooperation partners offer similar products. But only together can we shape the market.
I find it regrettable that there are such different approaches among some companies: some consistently do only KNX, and others rely on Bluetooth systems, for example - that's exactly what we don't want. We want to create holistic solutions that are open to different partners and integrations. Let's leave it up to the customer to choose what his preferred use is. We can then bring it all together on our digital platform so that it is easily tradable for everyone along the value chain. It doesn't serve anyone's interests if, in the end, three people stand in front of a door and argue about why it doesn't work.
"de": Through which distribution channels do you make your products available to our readers from the electrical trade?
J. Gau: We manufacture professional systems that belong in the hands of professionals such as craftsmen. Do-it-yourself solutions are not part of our portfolio. The metalworker will continue to order the mechanical door from us; for the electrical components, we have opted for three-stage distribution. The electrical wholesalers established in Germany - such as our partner Zajadacz - are a good multiplier for us.
"de": What else can we expect from Schüco in the future?
J. Gau: We will continue on our path with the topics of dynamic facades, digitalization, and networking. We want to answer the question of making a door as secure as a safe for unauthorized persons while making it as transparent to authorized persons as if it were not there at all. We will also focus more on products for the electrical trade, which are not as interesting for metalworkers.
"de": Which products would that be, for example?
J. Gau: Here I include, for example, the "Ventoflow", a smart, retrofit bathroom exhaust fan for demand-controlled ventilation. Or our sensors, which can be retrofitted in Schüco windows and indicate whether the window is open or closed. If the window is open, the heating is automatically turned down. Further products and digital tools will follow that will continue this service concept.
With our solutions, we want to bring together architects, specialist planners, metalworkers, and Electrical Installers, as we see the future in holistic building planning. This is the only way for a building owner to obtain energetically optimized buildings. Unfortunately, that doesn't always work so well today. In some cases, smart systems work reliably on their own but not in interaction with each other. That's why we also have a networking event called "Smart Talks" together with our partner Gira, where we discuss precisely this problem together.
"de": Is BIM also an issue here?
A. Bradfisch: The topic of BIM is relevant for both dormakaba and Schüco. We all want to achieve "seamless flow" in the building: to be as secure as possible - without noticing when you cross barriers, provided you have the authorization to do so. This means that already in the design phase of the building someone has to think about which functions should be used in which areas of the building. How should users feel in the building, and what possibilities are they allowed to have?
We answer these questions with the help of digitization, which means I have to be able to visualize the building from the start so that the customer also understands that he is getting more from us than just a door or a facade. To map how a user moves through the different zones of a building, we need BIM. Not only for visualization but also to map the products exactly within the project. Or to show how the project developed from the architect's initial idea all the way to the handover to the user in case changes to the original plan became necessary.
J. Gau: It is also wrong to say that BIM is the future. Because BIM is the present, the reality, even if it is not yet used everywhere. Leaving aside the shortage of skilled workers and material supply problems, we will not manage to build the needed and planned residential and office buildings if we do not manage to establish digital processes.
A. Bradfisch: And if you are provided with the data on the solutions digitally, it doesn't matter at what point in the process you enter. Even if the building is already built and you want to retrofit a product, you can see how the function changes or what the suggestions are to achieve the desired new function on a door, for example. We have therefore launched our "EntriWorX" platform as a new ecosystem that digitizes our product portfolio to enable smart planning processes, simple installation procedures, and the safe, smooth operation of a building.
From the planning phase to operation, we generate digital twins of doors that can be transferred to our partners, such as Schüco, or other third-party systems like building management systems. This makes it possible to receive all the data relating to the door solution in question, adapt it to the customer's processes and monitor it. And for the electrician, a cable plan is also automatically created via a door template. In this way, it is clear what has to be connected at which position and which cables are required on-site, and in which length. In the digital workflow, commissioning works virtually at the push of a button because all the information is already available from the start.
Image- Copyright: Anja Jahn / Schüco International KG