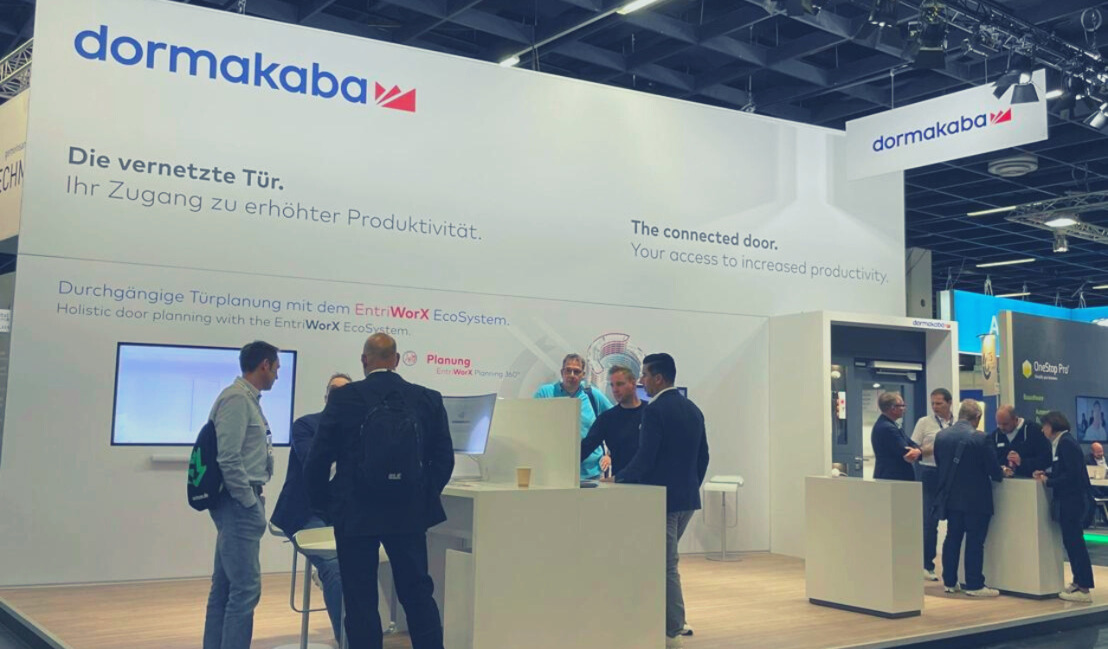 dormakaba pleased with digitalBAU 2022 in Cologne
With 330 exhibitors (an increase of over 20 percent) and around 10,000 visitors, digitalBAU 2022 has highlighted its significance to the construction industry. dormakaba also participated in this innovation platform for the construction industry with a larger stand and is pleased with the response.
Overall, dormakaba's conclusion has been positive. "The response of trade visitors to our networked solutions and digital planning tools was very good. We had many good, very detailed discussions with interested people, who were often on decision-making level, and were also able to establish new contacts. The discussions were intensive, characterized by open dialog and very valuable to us," explained Jens Kronenberg, Head of Property Management Germany, Access Solutions Europe & Africa.
The "EntriWorX Planner" and "Planning 360°" planning tools, which provide architects and planners with comprehensive support in planning doors and access solutions, were very well received by trade visitors. This makes it easier for architects to plan, manage and combine the various different requirements and the components needed for them "at the door." The collaboration platform simplifies and optimizes door list management and enables project-based communication with other parties involved in construction. "Visitors expressed a great deal of approval for our approach," emphasized Dr. Kai Oberste-Ufer, Head of AEC Planning Tools & Configurators. At the stand, he used live demonstrations to show how specialist planners can use the online access planner with the door solution catalog in the planning phase to obtain and provide all relevant information for the installation phase.In addition to architects and fabricators, these solutions are also becoming increasingly interesting to project developers, project controllers and investors.During their visit to the stand, investors and project developers were also interested in the management and operation of facilities and how dormakaba creates a new level of transparency and security in facility management with EntriWorX Insights.

Petra Eisenbeis-Trinkle Presse- und Öffentlichkeitsarbeit / dormakaba Deutschland GmbH