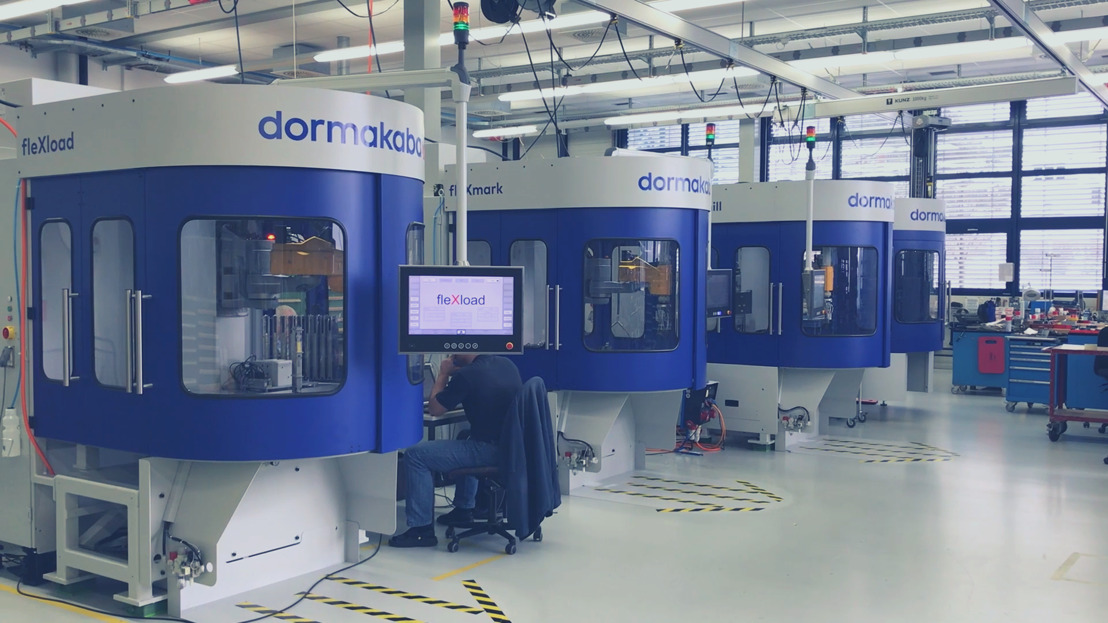 Four machines and one robot
Innovation is not only the development of new products, but also the advancement of processes: See how its realized in our Swiss factory.
dormakaba is not only working on new products, but also on various projects to make the production of these products more efficient. One of these projects is the complete automation of key cutting.
Two and a half years and countless hours of work lie behind the project team. Now the fully automated key cutting line is ready for its first deployment. fleXline, as the project is called, consists of four machines and one robot, which all have their specific task:
fleXstack
fleXstack is the starting point for the key production. It assigns the corresponding order from SAP via barcode to each stack carrier – this is a rectangular plastic box with the size of an A4 sheet, into which the keys are later placed.
fleXload
fleXload is the storage for up to 71 different key blanks. Depending on the customer order fleXload fills the stack carrier with the corresponding key blank in the right sequence.
fleXmark
The next step is to apply the system number, customer name or logo to the key blanks by laser. This is the task of fleXmark. Its precision laser allows individual customer requirements including filigree details of a logo to be transferred to the key blank.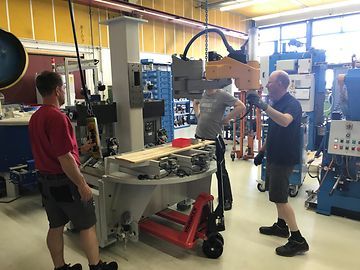 fleXmill
fleXmill is the heart of fleXline: It mills the side and edge grooves into the key blanks so that they fit exactly into their corresponding cylinders.
fleXtrans
fleXtrans is the secret star. The small robot tirelessly moves the stack carriers between the four machines and ensures a smooth workflow.
"fleXline was developed and constructed in-house from A to Z. I am proud of my team that has worked so diligently and tirelessly on this project," says Thomas Schwab, Senior Vice President Operations EMEA.
To make the production process even smoother, the fleXline machines are directly connected to the ordering system of our partners via SAP. This means that orders go directly from the customer to fleXline, where they will be processed independently and chronologically.
The machines have very different throughput times; fleXload is up to five times faster than fleXmill. To compensate for this, the final production line will consist of one fleXstack and fleXload, two fleXmark and three fleXmill. This modular design has the advantage that it is possible to react quickly to an increase in demand by purchasing exactly the machine-module from the fleXline series that offers the highest efficiency gain. In addition to efficiency, this setup also provides operational security. For example, if a machine has to be maintained, the others can still continue with the production Also, the machines can produce different keys for different locking systems. This has the advantage that our factories in Switzerland and Austria can support each other to guarantee constant short delivery times to our customers.
Watch the video to see the fleXline machines and its robot in full action.