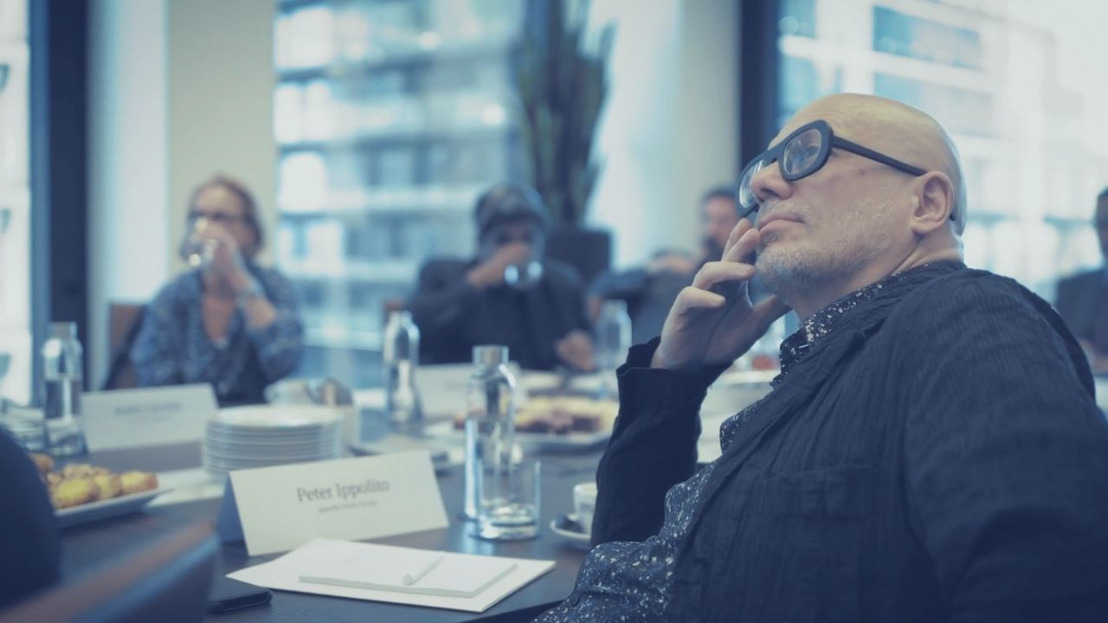 Product design meets Architects 2019: Rethinking Access Design for the Future
"How can personalized access be integrated into architecture?"
"What will lobby design of the future look like?" "How should designers streamline their process despite cultural differences?" These pressing questions about the future of design and architecture were at the forefront during a recent roundtable in Frankfurt (Germany) organized by dormakaba, in collaboration with the German Design Council.
Several noted international architects participated in the roundtable, during which dormakaba presented its new design language, XEA. The architects were invited to weigh in on it, as well as on the company's overall strategy for the aesthetic component of its products.
Among those taking part were: Jutta Blocher, Blocher Partners, Stuttgart; Naveen Dath, Cottee Parker Architects Pty Ltd., Brisbane; Werner Frosch, Henning Larsen Architect's Munich office; Peter Ippolito, Ippolito Fleitz Group, Stuttgart; Sören Jungclaus, neogrün, Hamburg; Bernard Khoury, DW5, Beirut; and Noel McCauley, Duncan McCauley GmbH and Co.
Form and Function: the Indivisible Duo
The divergent mix of cultural and disciplinary backgrounds ensured a fascinating discussion. Design strategies for a smart access brand recognition launched the conversation. The consensus was that the value of personalized access objects can't be defined only in technical and functional terms; if the goal is to satisfy the client and the public, an aesthetic component is indispensable for the product.
"It's an important touch point for the user to have a feeling for good architecture", Soren Jungclaus, architect
That idea provoked the next question: to what extent? In other words, how much do the bells and whistles of technology need to align with a design language?
The majority promoted the idea of design language with reduction and simplicity as pleasing factors. More narrowly speaking, the idea of sleekness was welcome.
Julia Blocher said she appreciated that dormakaba's "design language is based on clear and simple forms." Her opinion is that if "the design language was more expressive, it might appeal to fewer people.
Beyond designing objects and devices, the entire process of access must be designed. While Peter Ippolito agreed that access and security must include more than technological solutions, he emphasized that "simplicity is not a value in itself, but a decision." He believes the conversation should be "less about an adaptation of the user to a particular technology, but instead that the discussion must begin with one's own behavior and interaction with a certain technology.
Cultural Considerations for Design's Future
The cultural aspect of invisible use technology comprised another stimulating part of the conversation. As design becomes more streamlined and automated, conveying and responding to additional cultural information is challenging.
Certainly, the architects know that one change can impact an entire space. But they also know that cultural factors are as important as creative ones in the implementation of a new product line.
Aspects such as cultural differences in user behavior and the acceptance of certain technical solutions such as face recognition and fingerprint scanners increasingly figure into the designing of such products. Adaptability in the requirements of personalized access depending on cultural context becomes a necessity.
Naveen Dath expressed like this: "Facial recognition is the way that technology is definitely headed. Whether it is going to be adopted in every single type of building and every single typology is still to be seen."
Bernard Khoury underlined that idea and the need for adaptability in design: "I believe that things should not be as smooth and as slick all across the board," he said, "devices that monitor access and exiting out of a building are extremely important and they should not be hidden."
"When you are talking about facial recognition you have to differentiate between Europe and Asia," added Noel McCauley. He expressed that facial recognition in Asia is so widespread already, with little resistance from public to these technologies.
As Peter Ippolito said: "We had the discussion on whether were going to have a bulldog in front of the door communicating security or we're going to make sleek process and everything is invisible. Both answers are right. It depends on the context. [It's] important that both answers are used."
Feeling Secure Away From Home
Lobby design, and its future, in terms of it being shaped by smart access solutions, was a natural progression in the conversation. When designing lobbies, many architects prioritized convenience and aesthetics, rather than security. Any loopholes have tended to be overcome by additional costs from extra staffing. However, a flexible, cost-effective, and scalable access management solution is the next-generation software answer. It's designed to create exceptional hotel experiences for staff and guest. Its mobile access, for example, allows guests to bypass the front desk. The Manville hotel in Montreal was an example of how smart access solutions are changing the design of hotel lobbies. The hotel features automated check-in kiosk, room service delivery robot and high-tech electronic doors. These new generation of sleek and user-friendly doors are access solutions with a secure and seamless integration from lobby to guest room.
A Consensus to Marry Form and Function Emerg
Many questions and answers crucial to the future of design and architecture emerged during the roundtable. However, the consensus was the need for sleek and efficient solutions that kept evolving to maximize security to cater to different needs and cultural preferences.
dormakaba's response to the question of a streamlined design, its "X Elements of aesthetics," or XEA, a design strategy that aims "to unite basic designs, colors and surface finishes in a single, standardized appearance," met with approval by the roundtable.
As Noel McCauley put it, "I like the emphasis on giving the brand a language but also keeping it very reduced."

Alexander Wood DVP Internal Communications / Press Officer